Are you a B.A.P fan too?
To be really honest with you guys, any Kpop songs which is nice and catchy, I will love it and put as replay mode. But I wasn't really sure about B.A.P because I don't really listen to their songs or see them on variety shows until the night I attended their concert and I was literally enjoying and dancing to each and every song they performed!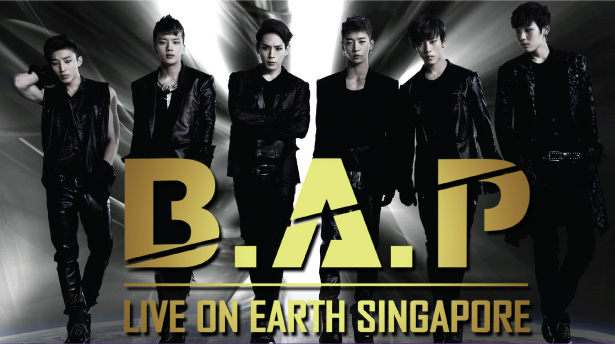 Thanks to Jeremy aka Jalorme for giving me his pair of tickets so that I can watch it with them!
(you will know who I attended the concert with later.. :) )
And thanks Yu Fan for the upgrading! :)
We were a little late and missed about 15mins of the concert performance. I realized that nowadays attending concerts can be a little stressful. Why I say so? Well, attending a concert and taking pictures was a norm for us right? Because we want those memories to be kept. But I think this is my second or third time attending a concert whereby the security was strict and will not let anyone bring any camera into the concert theatre. And if you secretly sneak it in, and let those security patrolling caught you taking pictures or even holding the camera, they will come to you and ask you go out of the theatre and have your camera kept in the lockers they provided outside.
I would say there must be a reason why they do so. Maybe they do not want the photos to be leaked out especially when the idols are going for their world/Asia tour? Well, I just give them the benefit of doubt then. And that's also the reason why I won't be able to take many photos. :(
So as I was saying, we were a little late. we can already hear screams while walking to the theatre.
Most of them were cheering, screaming, getting all excited waving their B.A.P green bunny lighted wand and some used whistles instead of screaming their lungs out.
(Taken by iPhone so please pardon me :) )
Me and Debra with our B.A.P fan! :)
Debra, HP, CK and Jeremy
It was indeed a blast!
I enjoyed their performance and somehow 1-2 members caught my eye! hehehe! And yes, they got me excited too but no, I didn't scream, I was 'wow-ing' loudly when they were dancing. ;)
The whistles used by the girls are seriously (no words to describe)!
So loud to the extend that the idols were talking, we couldn't even hear a thing!
But then again, they hardly come to Singapore so I do understand why the girls will behave this way. If it's Kim Hyun Joong or Taemin or other kpop idols that I like, I think I will end up like the girls too. *fangirl scream*
Great performance! and I'm already looking forward to more shows and songs by B.A.P ! :)
xoxo