What I do when I'm having free time?

I usually love to watch Korean dramas during my free time e.g. during the day, before I go to sleep or anytime I feel like watching. I do watch Hong Kong TVB dramas too but the recent Korean Dramas are so highly reviewed and you just have to watch it!

So here's my current favorites:
Genre:

Family, romance, comedy
Episodes:

50
Broadcast network:

KBS2

IU as Lee Soon Shin in this drama where she was the maknae(youngest) in the family. Apparently, her dad was suppose to meet her one night and had met up with a car accident and passed away. Not knowing what really happen during that incident, she blamed herself all the while even after she found out she was an adopted daughter and was the daughter of popular actress Song Mi Ryung ( Lee Mi Sook). Soon Shin's passion on acting flourishes when Head of Agency, Shin Joon Ho (Jo Jung Suk) give her a shot when at first he used her to get back on ex-lover, Choi Yun Ah (Kim Yoon Seo),
but later found out he had fallen for Soon Shin and wanted the best for her. Yun Ah was affected that Soon Shin will be getting the best of both world (popular actress mum and head of agency as boyfriend), she decided to create rumors and problems for Soon Shin.

The rest.. please watch it yourself! I've given too much spoiler! lol.
I Summon You, Gold
Genre:

Family, romance, human, comedy
Episodes:

50
Broadcast network:

MBC

Han Ji Hye acts pretty well in this drama. Not only acting as the wife of Park Hyun Soo (Yun Jung Hoon), she also acted as Jung Mong Hee, the elder sister of the family. Because of the family, she has to sacrifice her dream of being the top fashion jewelry designer, drop out of University and work along the street to support her second youngest sister and family without knowing that she's actually adopted.She has a twin sister which is Son Yon Na, the wife of Park Hyun Soo, the eldest son of the prestige Jewelry store. The evil 2nd wife of the head of the prestige Jewelry store tries to remove those 'obstacles' which are basically the other sons and make her son (2nd eldest son of the family) the successor.

There are times I feel like 'virtually slapping' the evil 2nd wife! haha! I was that into the drama. yeah. unbelievably eh? :)

Watch to find out more :)
Fashionista Son Yon Na
Yong Joon-Hyung, from the popular Kpop Boyband, BEAST, act as Yoon Sul-Chan in the 12 episode drama, one of the member in the Kpop Boyband called Man in Black. He met Min Se-Yi (Ha Yeon-Soo) while working and he mistakenly thought that she's one of his fan. Both of them seems to find fought with each other even in school and unknowingly, Sul-Chan fall for Se-Yi. Jung Sun-Woo (Kang Ha-Neul) liked Se-Yi when they were really young, and took up guitar lessons just to get close to Se-Yi. Se-Yi's father was the teacher who thought guitar and Se-Yi usually accompany her father due to her passion in singing and playing guitar.
It's a sweet and pure love story among the students and how they help each other overcome their fear and face what they love to do: Their passion on singing and performing. It's like a Korean version of Glee.
Who Are You
Genre:

Fantasy, romance, horror, melodrama, mystery, thriller, action
Episodes:

16
Broadcast network:

tvN
A ghost romance story about Yang Si Ohn (So Yi Hyun), a woman who is able to see spirits after waking up from a 6-year long coma and Cha Gun Woo (Ok Taecyeon), a man who only believes in solid evidence. The two detectives come to understand each other as they try to help the spirits attached to objects at a lost-and-found center rest in peace.
This drama will feature a love triangle between spirits and humans. Si Ohn′s dead boyfriend Lee Hyung Joon (Kim Jae Wook) will appear as a spirit, perfecting the supernatural romance. Hyung Joon was an elite member of the police force, but lost his life following an unfortunate accident.
*Note: Not very frightening but it's still about spirits so if you have faint heart, watch it only in the day. :)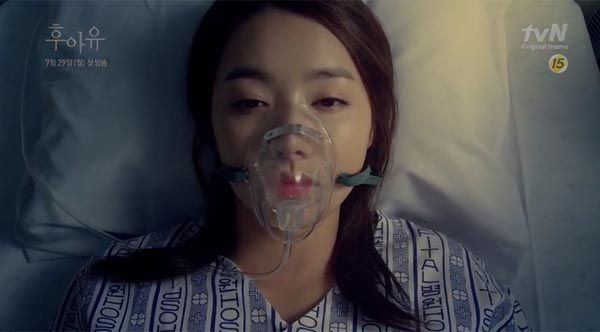 Genre:

Historical, romance, political, melodrama
Episodes:

32
Broadcast network:

MBC

A historical drama about a girl, Yoo Jung (Moon Geun Young) also known as Jung Yi who dreams to be the top porcelain artist of the Joseon Dynasty. And this drama is actually based on the real historical figure 'Baek Pa Sun', the lady porcelain maker who lived a life of an intense love and artistic spirit.

She chanced upon Prince Kwang Hae (Lee Sang Yoon) when she and her god-brother, Kim Tae Do (Kim Bum)was out hunting and created traps. Prince Kwang Hae fell into one of the trap and...

I'm not going to give too much spoiler on this drama because You really gotta watch it to understand it.

The best part? You get to see how despicable Lee Kwang Soo acted as Prince Im Hae in this drama. haha! He really act like what he was in Running Man, the Betrayer! So funny. Super like him even if he was so naughty. lol
Other than that? drooling by Kim Bum's suave look! aww.. <3

Bad guy on the left! >: (
Good Doctor
Genre:

Medical, romance, human, melodrama, family
Episodes:

20
Broadcast network:

KBS2

A medical drama about Park Shi-on (Joo Won) who gotten autism since young, gets a specialized education at a care center where he was discovered to have genius tendencies, an exceptional memory, and has a keen of perception of space within the human body, but he remains as a man who has mentality of a 10 year-old boy.


I like those super young actors and actresses in the drama!
They are all children and able to act so well and so cute!
But I like this drama alot because it is very meaningful. We should give everyone a chance to dream.
*

*

*
What about the rest?
I'm still in the midst of watching Two Weeks and Master's Sun.
It's also another 2 highly reviewed popular dramas which you guys can consider watching too. :)
I will update which are the ones I'm watching again soon alright!
Disclaimer: All photos in this post are from google yo~
xoxo