What I feel about this movie: Relatable to me and incredibly Romantic!

Thanks to Omy.sg, I was one of the first few to catch 'Before Midnight' before it shows in the theaters on 25 July 2013!

At first, I wasn't quite sure what movie was it until I watched it, it made me so curious about the previous 2 sequels and I eventually went home to google more about it.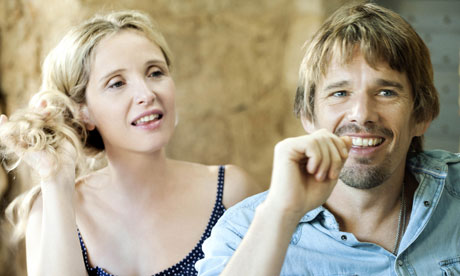 A short recap -
"Jesse (Ethan Hawke) and Celine (Julie Delpy) first met in their twenties in BEFORE SUNRISE (1995), reunited in their thirties in BEFORE SUNSET (2004), and now, in BEFORE MIDNIGHT (2013), they face the past, present and future; family, romance, and love. Before the clock strikes midnight, their story again unfolds."
Before Midnight Official Trailer:
The conversation between Jesse and Celine was mostly about their life and the issue that made both of them quarreled. It's also shows how they try to work things out between both of them.

You get to understand how woman reacts/behave in the relationship and I bet many of us does react/behave somewhat like Celine or Jesse.
I can really relate this to my own experience as well!
I'm probably Celine, more emotional and rational at the first time.
Would want attention from the partner especially when needed someone to be there.
Well, that's why people always say 'Women have the highest EQ' (Emotional). :)
It's really sweet how they talk things out and Jesse tries to make Celine laugh and feel love again.
Go watch it if you have been following the sequels!
Or be like me, Watch 'Before Midnight' first then you get the curiosity kicking in and rush to find out what exactly happened in the past (Before Sunrise and Before Sunset).
Enjoy! :)
xoxo