It's my second session with Matsui Hair Studio, and this time, the person that will be transforming my unruly hair into pretty, healthier hair is Alvin! *applause*
The moment I stepped into the studio, I noticed the wall was covered with beautiful and vibrant painting done by the very talented NAFA students!
Making the whole studio much more livelier and cheerful!
Super like the waiting/chilling area!
Thanks Verlyn babe for being so sweet and wait for me while I was doing my hair.
Yes, my frizzy hair really needs some tidy up!
HELP ME, ALVIN!
Alvin looks through and analyze my hair conditions before deciding what changes my hair needs.
Not only that, he even share with me the up-coming hair trends and colors to see if I'm comfortable to explore.
Alvin also suggested to have summer hair colors yet naturally looking for everyday because he knows I'm working. Very thoughtful! :)

So, he decided to have a more vibrant blend of Yellow and Pink to create some visual textures instead of the normal hair color yet it can still look natural.
Super excited and can't wait to see the result!
Pretty hues which will give the visual effect.
It can be hidden for more sophisticated look or curled outwards for more vibrant look! :)
If you're a dare-devil or a fashionista, and would love to try out different hair colors and style, do discuss with Alvin the next time you visit Matsui. He is super good at sharing with you the latest trend and colors so you'll always be the Fashion-icon!
Still maintaining my ash colors at the bottom and I'm loving it!
I like being there for hours and never feel bored because they're always checking on you at intervals and they're so friendly that you might ended up chatting like 10 years buddy! lol!
Took this while Alvin was busy concentrating straightening my hair keke!
But of course you can choose to curl it too!
*
*
*
Tada!!
Shiny, hydrated, no frizz, no tangles, healthy hair achieved!
On normal days which I'm a little lazy to style my hair, it still look beautiful!
Really helps to brighten my overall look especially when I'm wearing dark colors outfit!
That goes to show the quality of the products used on me (and on all customers of Matsui) are of the best!
Thinking of making use of the GSS period to change your hair style or have a hair makeover?
Do check out their GSS promotion !!
*ends 27 July 2014
HURRY BEFORE IT ENDS!!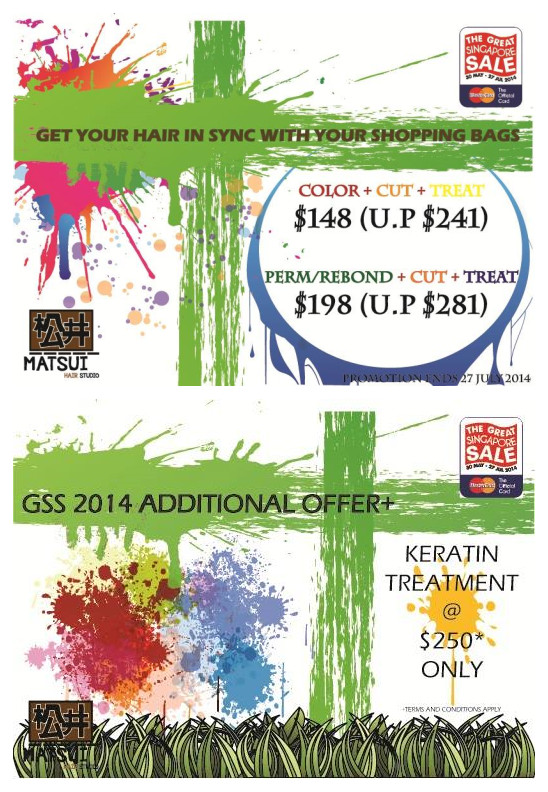 Their hair treatment is superb!!
Special thanks to
Matsui Hair Studio
, Apple and Alvin!
Always taking good care of my sensitive scalp and hair! :)
***
SPECIAL DEALS FOR MY READERS!
*quote
'Zerika
'
when you make appointment with
Alvin
and
get
15% off

on

hair services
at
Matsui Hair Studio
!
Located at Bugis+
202 Victoria Street
#03-15
Operating hours: 11:00am - 10:00pm (Mon to Sun)
Can't wait for my next session with Matsui <3
till then,
Zerika-says